Buenos Aires Ministro Pistarini airport
Last boarding calls
Information provided by © Avionio, and subject to change without notice. Aeropuertoezeiza.net is not responsible for any error, modification or omission of data that may have been made.
Today's departures from Buenos Aires EZE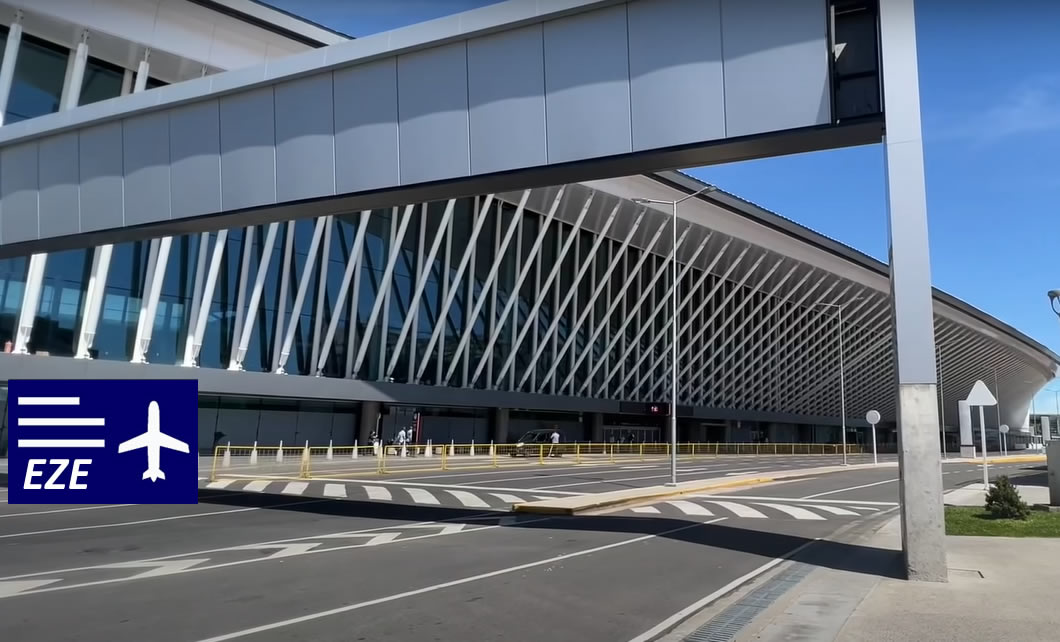 Image from Youtube
Location
The Ministro Pistarini International Airport, known as Ezeiza Airport (IATA: EZE), serves the Buenos Aires area, Argentina, with international and some domestic flights, being the most important in international flights from Argentina (around 6,5 million passengers in little more than 45 thousand flights during in 2022). It has routes to all of Latin America, North America and Europe, and some to Africa and Oceania.
Construction Works: The new Partidas terminal (Zeppelin-shaped building) is being incorporated, which includes new counters and a new security and migration section. At the same time, work is being done on the restructuring of all the operational areas and parking lots, the integration of the buildings of the "B" and "C" terminals, the new Departures and Arrivals terminals, and the new multilevel parking building, among other improvements.
It is located 35 km (21 miles) southwest of downtown Buenos Aires (See Map)
Hotels nearby
There are no hotels inside the airport. But there are several accommodation alternatives in the sourroundings.
Terminals
It has three terminals: A (for international flights), B (some domestic and international flights) and C (domestic flights). 
Airport contact:
Official Website: - Facebook - Twitter - Tel. +54 11 5480 6111 / Concession: Aeropuertos Argentina 2000
Services
The airport has cafes and snacks, fast foods and typical Argentine cuisine, as well as regional and and several stores including duty free shops with Technology and entertainment, Toys, gifts and souvenirs, Beauty and fragrances, Books and magazines, Fashion and accessories, Gastronomy and wine, Basics traveling, etc. Both some food and shopping options remain available 24 hours a day. In turn, there is free Internet access, currency exchange bureaus, banking services, convenience stores, VIP lounges, a lost property office, luggage wrapping services, and trolleys.
Public and Private transportation
Transfer Services:
You can get from 16 USD per person in a shared vehicle, door to door service. Learn more
Taxi cab and ridesharing services:
Taxis and remises at Terminal A land side (downtown rate: USD 25 to USD 30). Estimated time (45 to 60 minutes). Uber and Cabify (from 15 to 20 usd) in the parking lots. Learn more
Bus services:
SHUTTLE Manuel Tienda León (approximately usd 6)        
(45 minutes to Retiro station or Jorge Newbery Airport) Ticket offices in Terminal A, Arrivals area, Ground Floor, Public Sector.
Urban buses: the cheapest option is the urban bus. Line 8 (differential service) goes directly to Plaza de Mayo (between 60 and 70 minutes) Learn more
Arrivals at Terminal A
Airlines
Airlines companies at Buenos Aires Ezeiza and check in desks location
Vip Lounges
Terminal A: Aeropuertos VIP Club Ground floor, buildings 3 and 4 (Departures and Arrivals)        
Terminal B: American Airlines Admirals Club, LATAM VIP Lounge, Star Alliance Lounge        
Terminal C: Aerolíneas Argentinas Condor Lounge, The Centurion American Express, Ezeiza Lounge.        
SEE LOUNGES    BOOK A LOUNGE PASS
Parking
The airport has 4 sectors: Parking E1 (uncovered), Parking E2 (covered multilevel), Parking E3 (memberships) and Parking E4 (long stay). The latter is by reservation only. LEARN MORE
Passengers with special needs
Assistance and facilities for special passengers with reduced mobility, deaf passengers, Down syndrome, autistic, pregnant or minor alone.